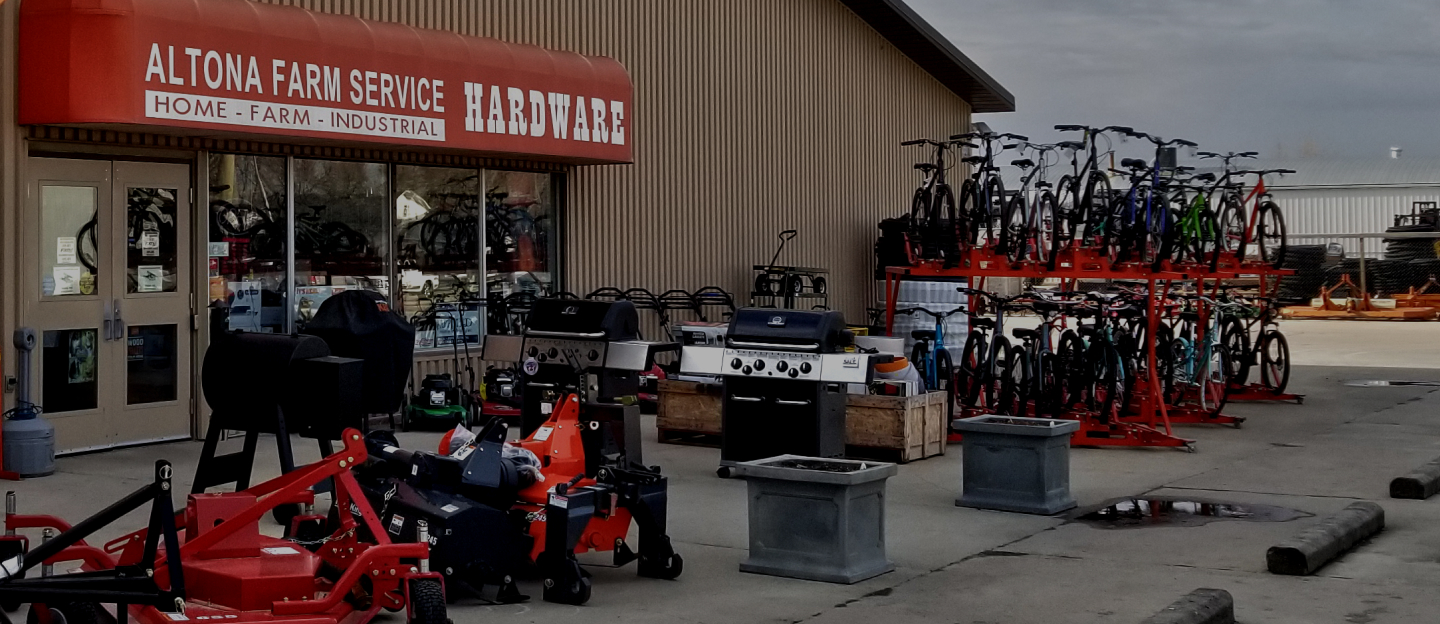 Terms & Conditions
ALTONA FARM SERVICE LTD.
WEBSITE TERMS OF USE
Altona Farm Service Ltd. ("AFS" or "we") provides users with access to this website (the "Site") subject to the to these Website Terms of Use (the "Terms of Use"). By accessing and using this Site, you agree to be bound by these Terms of Use. AFS reserves the right, in its sole discretion, to modify, alter or otherwise update these Terms of Use at any time without further notice and by your continued use of this Site, you agree to be bound by such modifications, alterations or updates.
1. Copyright
The Site, including all content and functionality (including without limitation photos, audio and video clips, text, graphics, logos, icons, illustrations and images, and the selection and arrangement thereof) (the "Site Content") are the exclusive property of AFS and is protected by Canadian and international copyright laws.
The Site Content may not be copied, reproduced, republished, uploaded, posted, transmitted or distributed in any way without the prior written consent of AFS, except as expressly provided in these Terms of Use. Modification of the Site Content or use of the Site Content for any other purpose is a violation of AFS' copyright therein and is strictly prohibited.
2. Trade-marks
The trade-marks, service marks, designs and logos (collectively the "Trade-marks") displayed on the Site, whether registered or unregistered, are the trade-marks of AFS and may not be used or reproduced without the prior written consent of AFS. For greater certainty, you agree that you will not refer to or attribute any information to AFS (including on any public medium such as press releases or websites) and that you will not imply any endorsement by or relationship with AFS without AFS' prior written consent.
3. Use of Materials
AFS hereby grants you a non-exclusive, non-transferable license to access and download, display and print one copy of the Site Content on any single computer solely for your internal business use. All copyright and other proprietary notices must be retained on the Site Content at all times. Please note that the Site Content may not otherwise be copied, reproduced, modified, distributed, transmitted, posted or disclosed without AFS' prior written consent.
4. Linked Sites
AFS may provide links to other third-party websites, and AFS is not responsible for the content, accuracy or opinions expressed on such third-party websites, and such websites are not investigated, monitored or checked for accuracy or completeness by us. Inclusion of any linked website on the Site does not imply approval or endorsement of the linked website by us. If you decide to leave our Site and access these third party sites, you do so at your own risk. Please note that use of third party websites may be governed by such third parties' terms of use and privacy policies.
5. Personal Information
AFS may collect, use and disclose certain personal information provided to it during the course of your use of the Site, or your request for certain products or services. AFS will collect, use and disclose personal information in accordance with its Privacy Policy which is incorporated hereto and forms part of these Terms of Use.
6. Non-transferable
Any rights granted to you under these Terms of Use are not transferable.
7. Disclaimer
THE CONTENT AND FUNCTIONALITY ON THE SITE IS PROVIDED ON AN "AS IS" BASIS, AND ALL WARRANTIES OF ANY KIND, EXPRESS OR IMPLIED, ARE DISCLAIMED (INCLUDING BUT NOT LIMITED TO THE DISCLAIMER OF ANY IMPLIED WARRANTIES OF MERCHANTABILITY AND FITNESS FOR A PARTICULAR PURPOSE, OR WARRANTIES AS TO OWNERSHIP, ACCURACY OR ADEQUACY OF THE SITE CONTENT). AFS DOES NOT WARRANT THAT THE SITE WILL BE ERROR FREE OR THAT USE WILL BE UNINTERRUPTED. AFS SHALL HAVE NO LIABILITY OR RESPONSIBILITY FOR ANY INFORMATION PROVIDED ON LINKED WEBSITES OR IN ANY INFORMATION PROVIDED BY THIRD PARTIES. NEITHER AFS NOR ITS DIRECTORS, OFFICERS, EMPLOYEES, AGENTS, OR THOSE OF ITS AFFILIATES, SHALL BE LIABLE FOR ANY INDIRECT, SPECIAL, INCIDENTAL, CONSEQUENTIAL, OR PUNITIVE DAMAGES OR FOR LOST REVENUES OR PROFITS, WHETHER OR NOT AFS WAS ADVISED OF THE POSSIBILITY OF SUCH DAMAGES OR LOSSES, ARISING FROM OR ATTRIBUTABLE TO USE OF THE SITE OR THE INFORMATION PROVIDED HEREON.
8. Miscellaneous
In order to use the Site, all users must be of the age of majority. This Agreement shall be governed and construed in accordance with the laws of the Province of Manitoba and Canada applicable hereto, and the parties hereby irrevocably attorn to the jurisdiction of the Courts of Manitoba with respect to any dispute relating hereto.